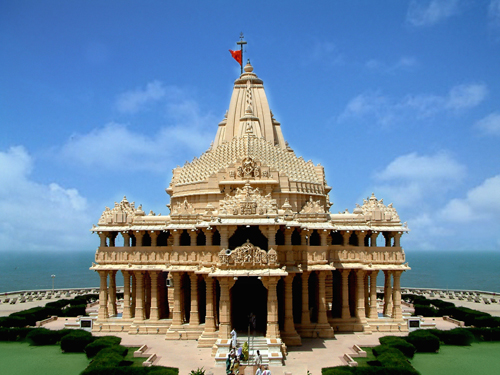 The Somnath temple located in Prabhas Patan near Veraval.
The first among the twelve Jyotirlinga shrines of Shiva.
It is an important pilgrimage and tourist spot for pilgrims and tourists. The temple is considered sacred due to the various legends connected to it. Somnath means "Lord of the Soma", an epithet of Shiva.
Somnath Temple is known as "the Shrine Eternal". This legendary temple has been destroyed and rebuilt several times by Islamic kings and Hindu kings respectively. Most recently it was rebuilt in November 1947, when Vallabhbhai Patel visited the area for the integration of Junagadh and mooted a plan for restoration. After Patel's death, the rebuilding continued under Kanaiyalal Maneklal Munshi, another minister of the Government of India